You can now sign into your parent/guardian account on Skyward to verify that we have your correct contact information. There are three new buttons under your student in Skyward's family access. The three options are: update parent/guardian info, update home/mailing address, and update emergency contacts. Doing this will ensure you will receive the district's All Calls. An alternate way to receive All Calls is to download the Knoxville CUSD 202 app from the Apple App Store (
https://apple.co/3iVbN1j
) and/or Google Play Store (
https://bit.ly/3u1b8Cd
). If you decide to download the app, make sure you allow notifications when first opening it.


KJHS Student Council Spring Spirit Week starts this Monday! Who will win the Spirit Stick????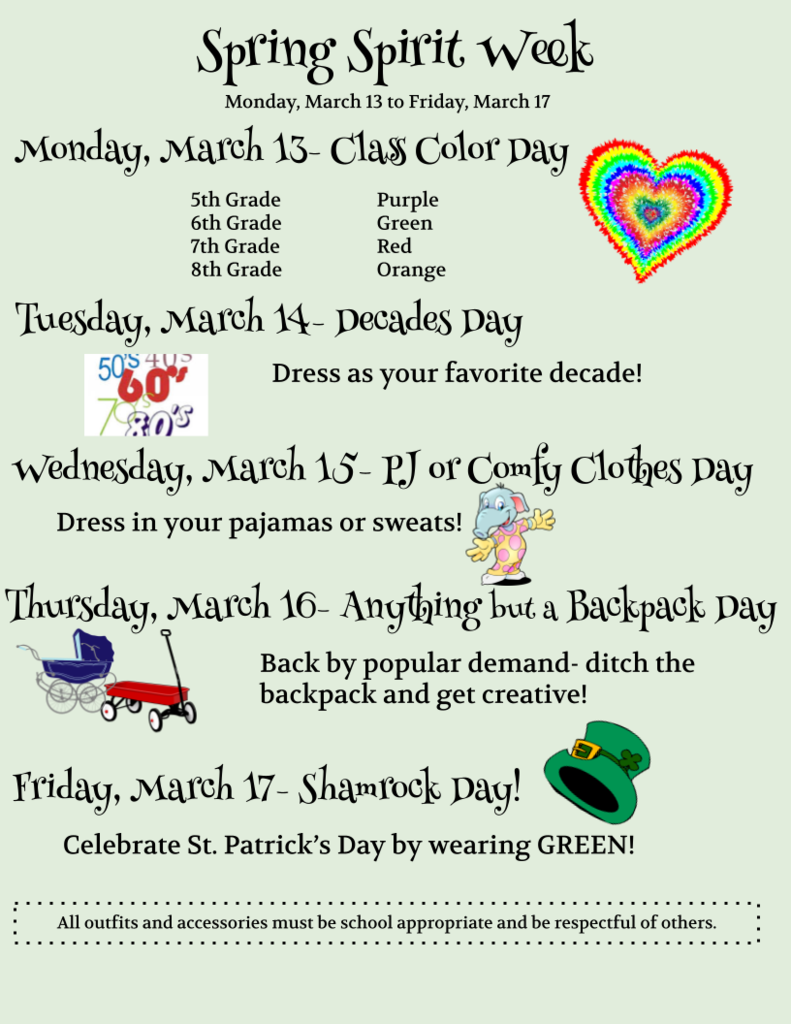 Parents, we are REALLY trying to get over this sickness hump. As a reminder, if you child is sent home with a fever or after vomiting, our policy is they MUST stay home at least 24 hours from the last time they vomited/have a fever. This ensures that your student is set up for success and that we are not continuing the spread of germs throughout the classroom.

Parents, Strep continues to be prevalent in our schools, community, and across the state. Please see the attached image regarding strep and what we can do to stop the spread.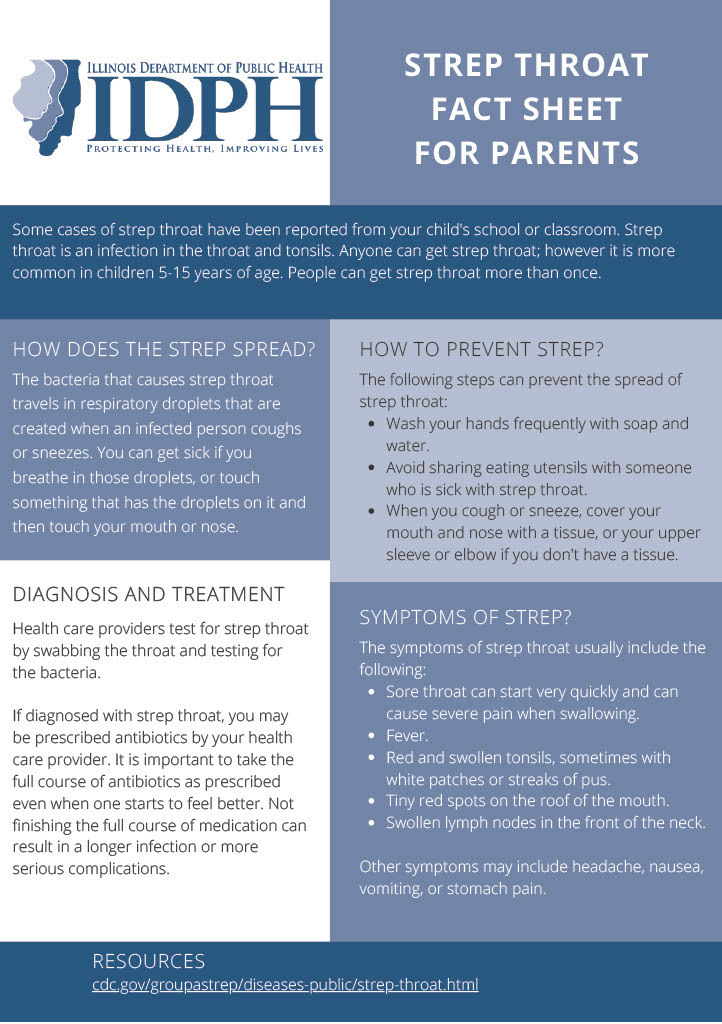 KJHS Student Council Newsletter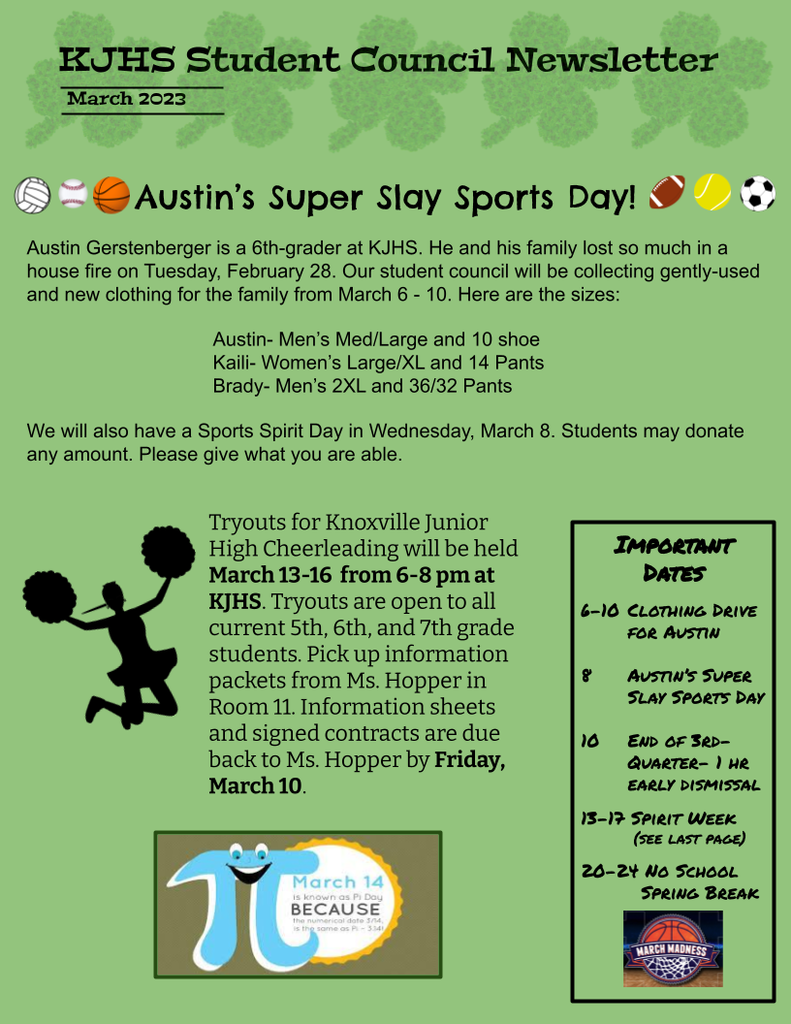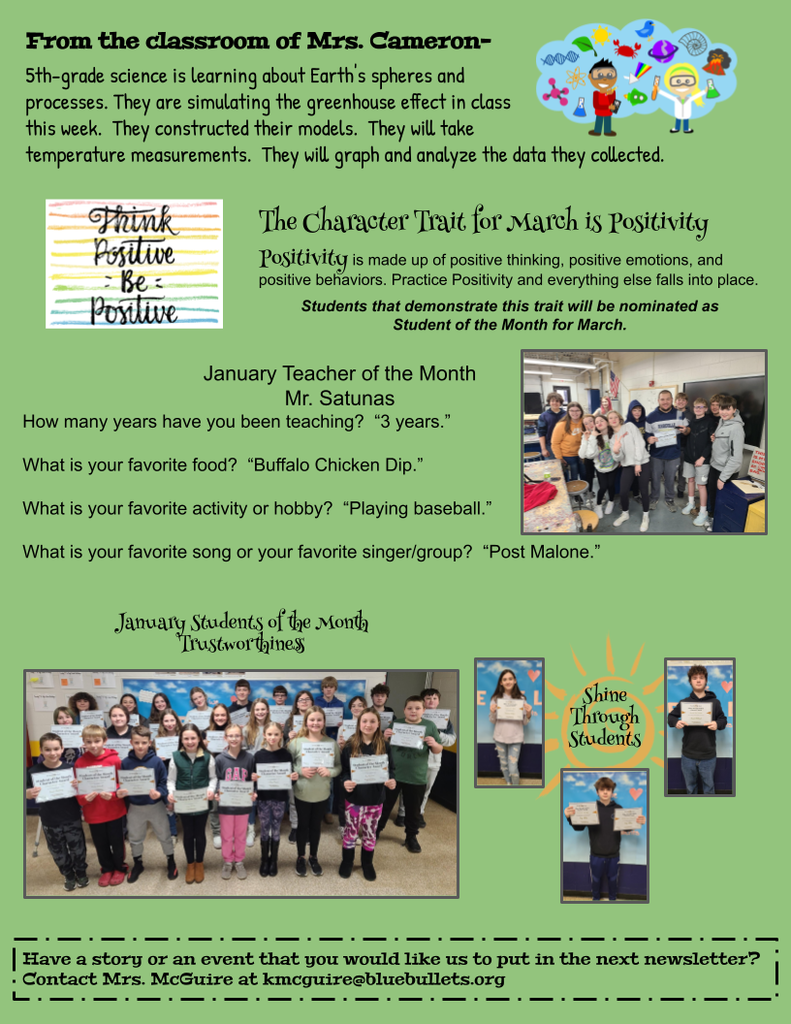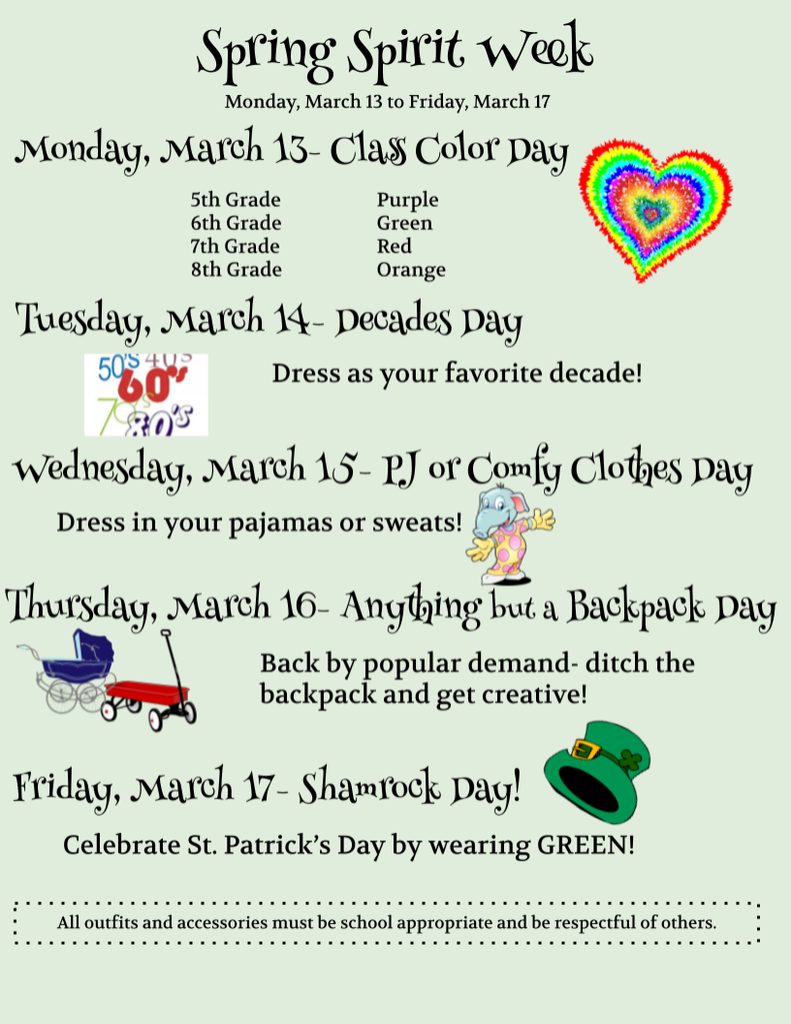 Please help one of our KJHS families! Thank you!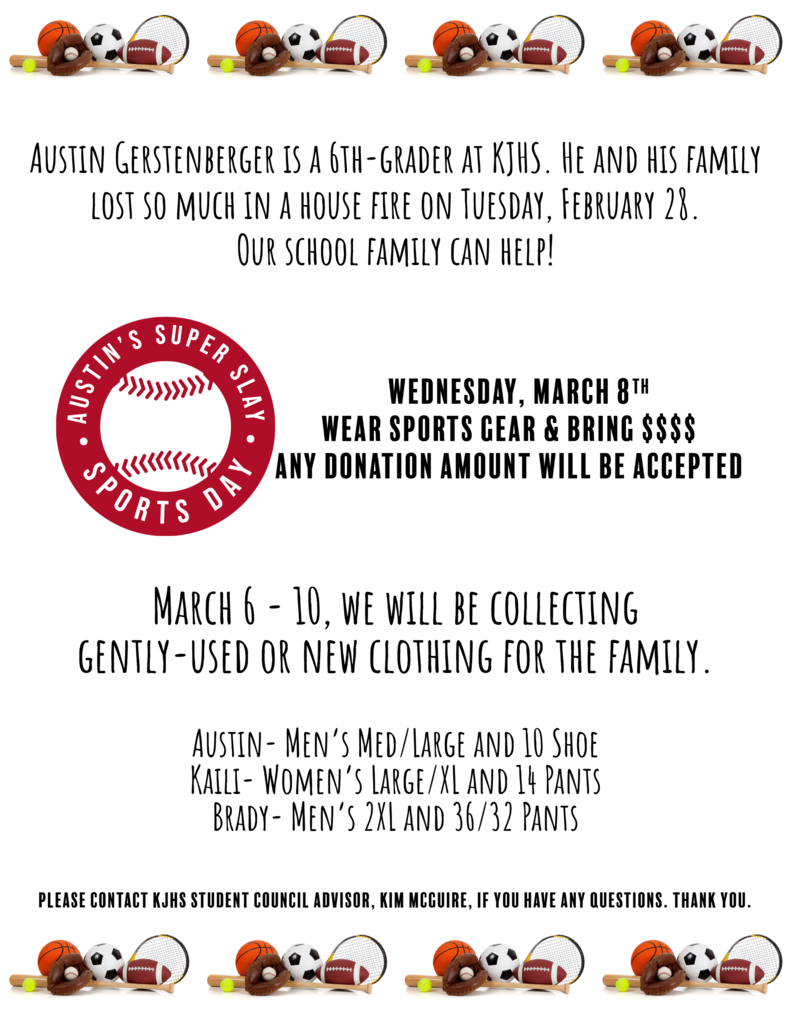 Registration deadline for Knoxville Baseball summer leagues, ages 4-14 is today. In person registration will be held tonight from 6-7:30 at Big Catz. Forms will be available. Additional details may be found on the Knoxville Baseball association's Facebook page.

It's time to schedule school physicals for next school year. Student who will be in Kindergarten, 6th, and 9th grades will need a full physical. Seniors require one final vaccination. Call your students healthcare provider today to get your appointment scheduled. Physicals/vaccinations need to be turned in by August 11, 2023.

There will be a meeting about the 2024 DC Trip on Tuesday, February 28. The meeting will be in the Commons area at KJHS and will start at 7 pm. This meeting is for current 7th-grade students and their families. Please email Kim McGuire if you have any questions.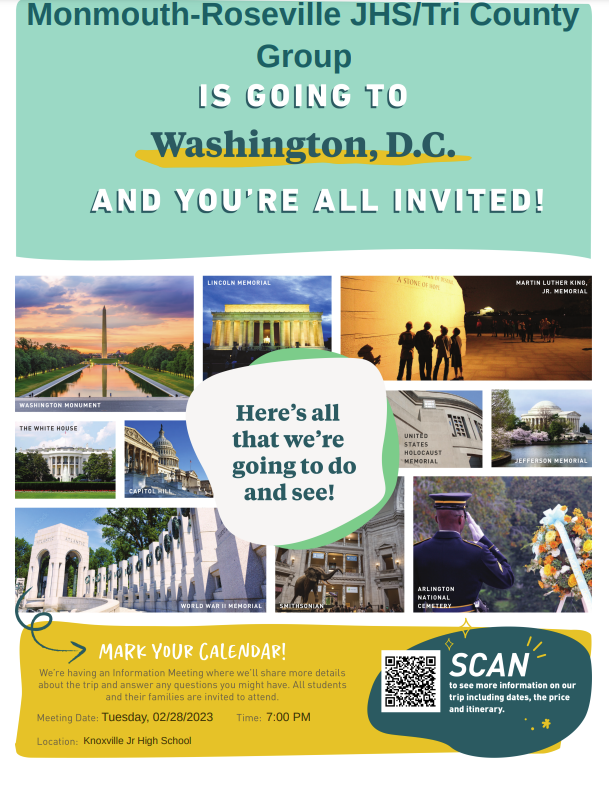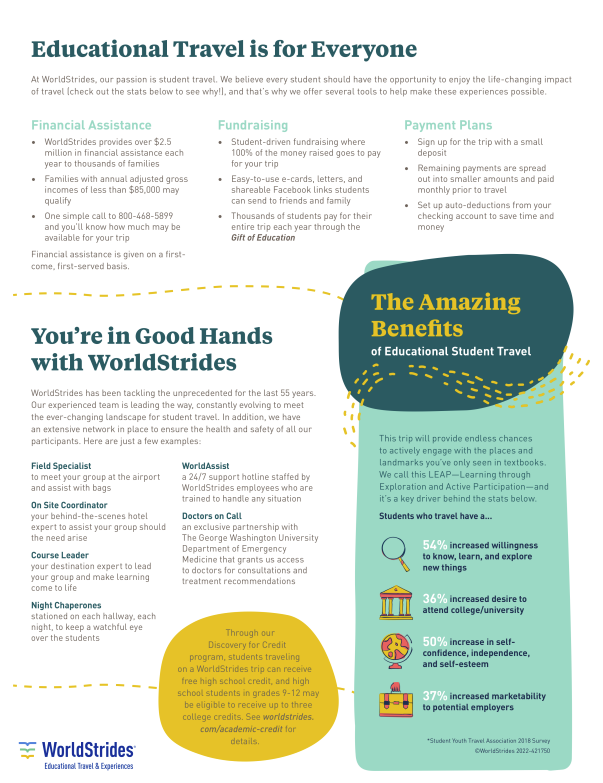 Due to the uncertainity of todays weather, Knoxville 202 will not be in session, Thursday February 16, 2023. This will be a snow day, no remote learning.

Please join us as the cheerleaders leave for IHSA State Competitive Cheerleading Championships this Thursday, February 2nd, at 4:00pm. We will all meet at the HS parking lot, cheer on the girls, and follow them as they head out of town! The girls would love to see the school's and community's support.

KJHS Crush Rush begins next week! Money raised will be donated to the Illinois Association of Jr High Student Council's State Service Project which is Illinois Police Association Cop Shop Program.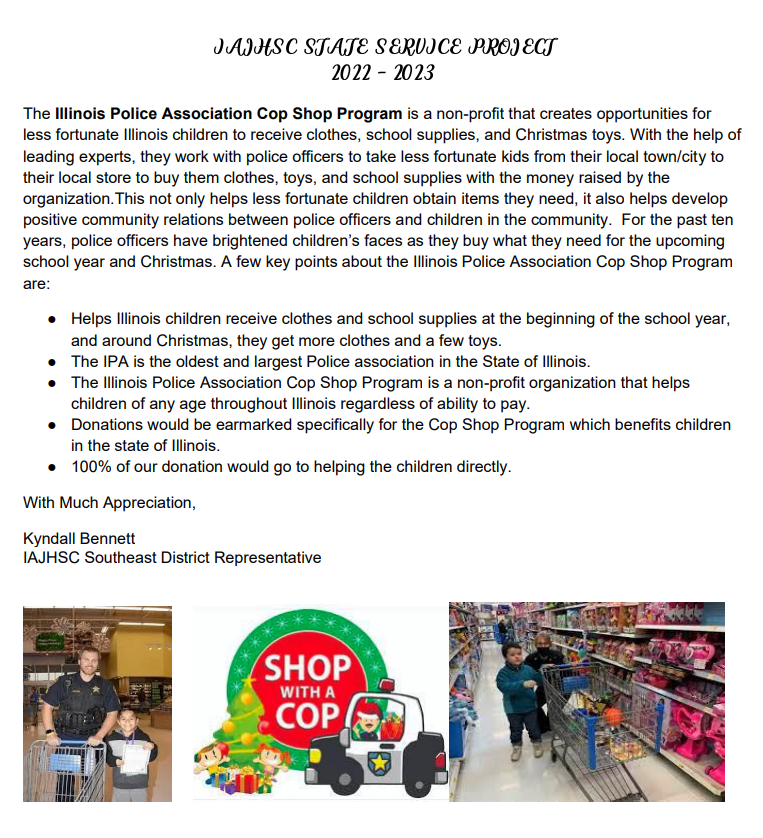 The Junior High Girls Volleyball game for tonight is being moved to Jensen Gym at KHS.

The KJHS Student Council Valentine's Dance will be Friday, February 10.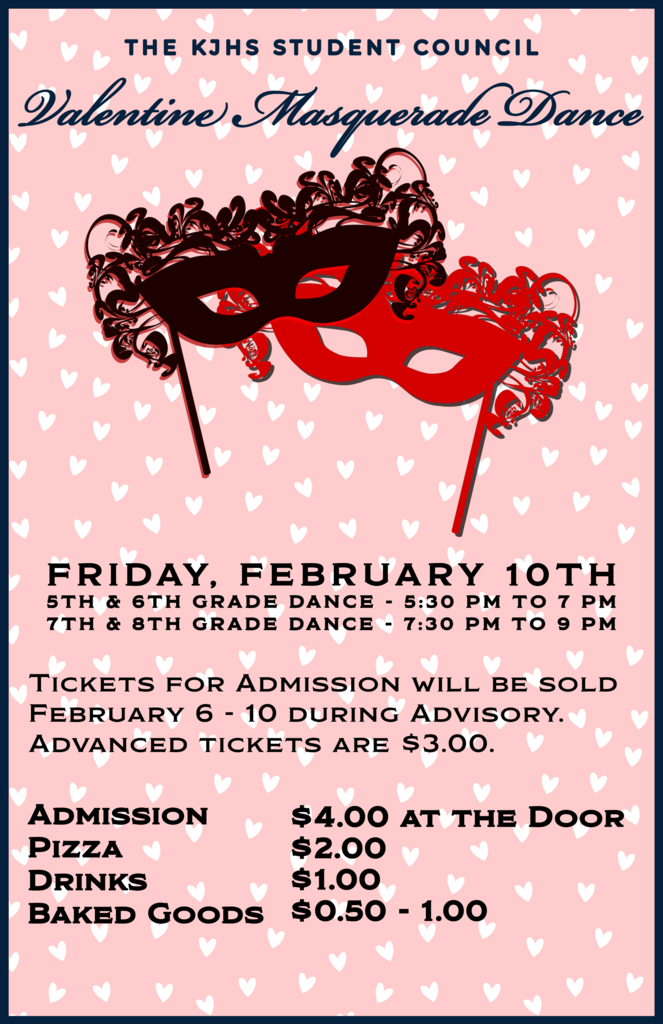 Here are the December KJHS Students of the Month and Teacher of the Month. Congratulations to all!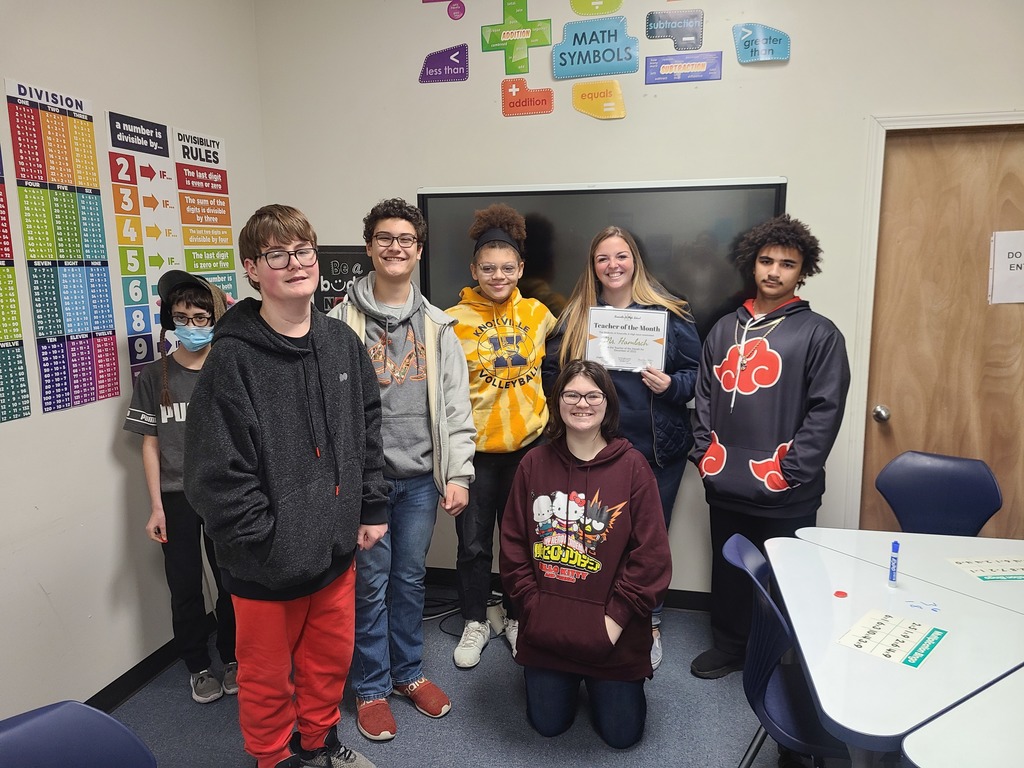 The KJHS Student Council December Newsletter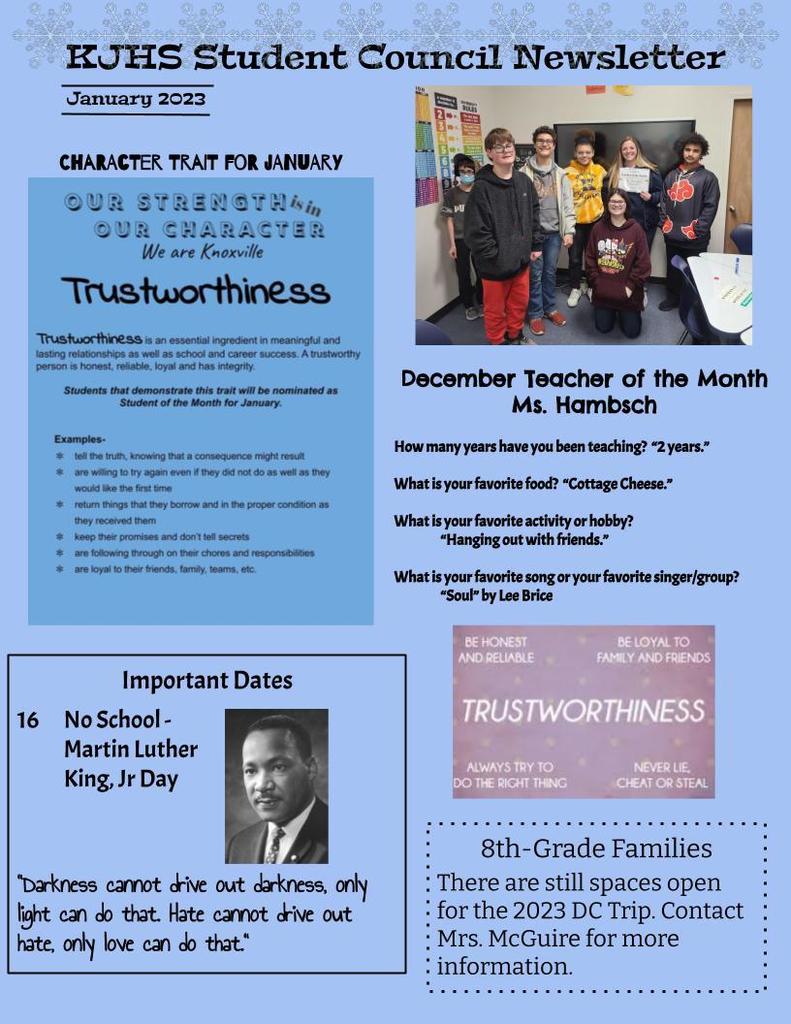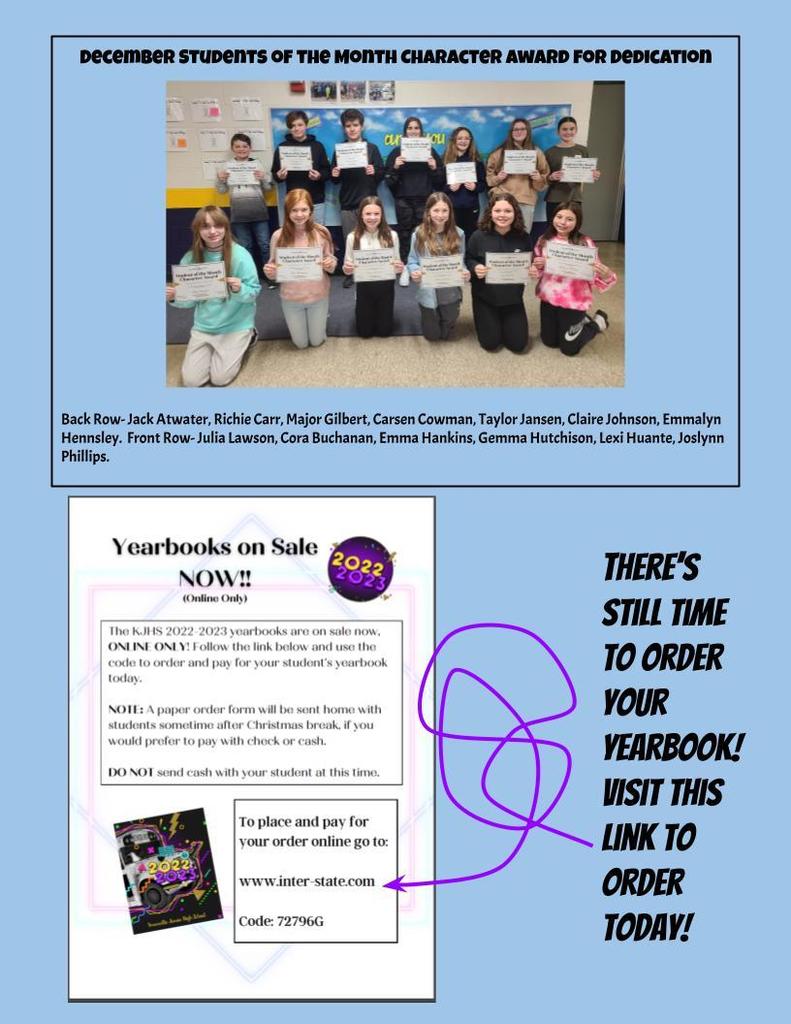 Welcome back from the KJHS Student Council! The Character Trait of the Month for January is Trustworthiness.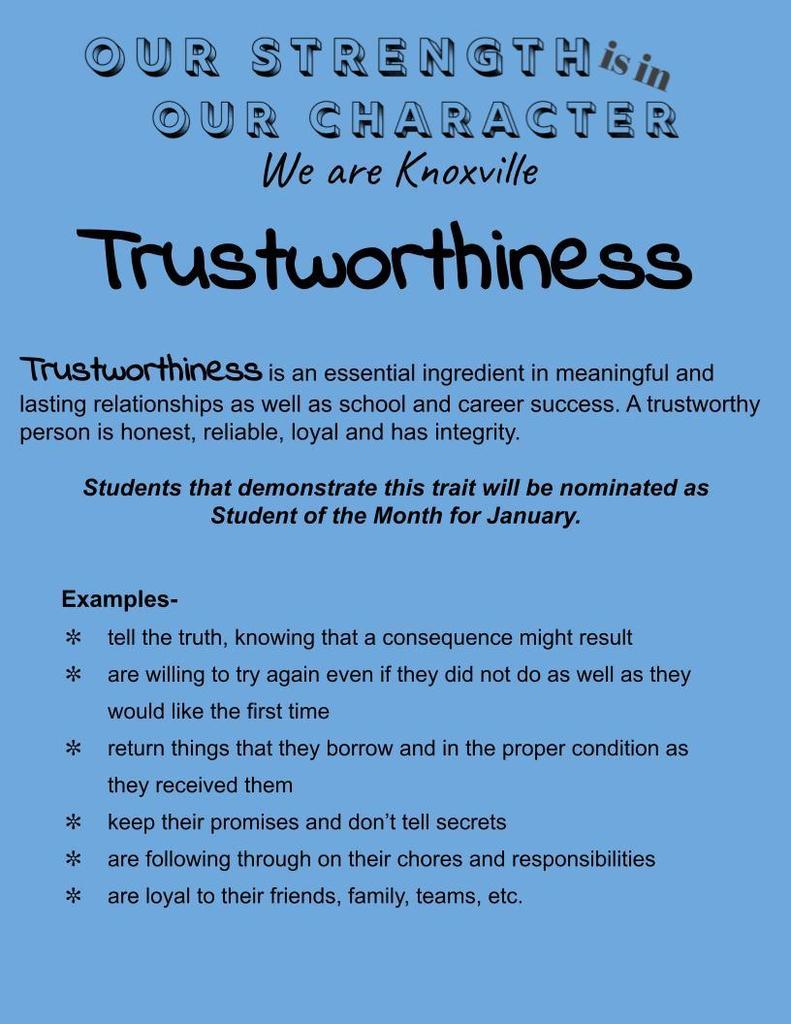 Thank you to outgoing Interim Superintendent, Marty Payne!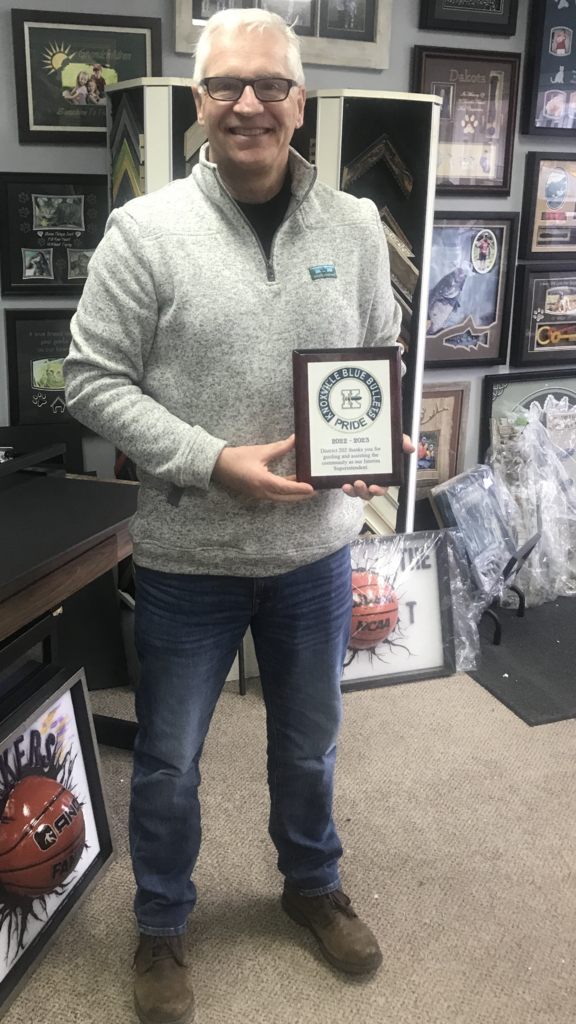 FAFSA/Scholarship Night for Seniors: On Wednesday, January 18th there will be an informational meeting for seniors and their parent(s)/guardians regarding the Free Application for Federal Student Aid (FAFSA) graduation requirement. Completing the FAFSA is an Illinois graduation requirement. Seniors attended an October presentation about the FAFSA. This session is for parents to come in for specialized help and to learn all about the financial aid process and how to apply for scholarships to fill financial gaps.

Attention Class of 2022 Graduates- we need you! True Confessions of College Freshmen will be held on Friday, January 6th, 2023 from 10-10:45 in the KHS Auditorium. This annual tradition is a great way for our current seniors to hear how much life changes after high school. Whether you went to community college, a four-year college/university, trade school, joined the military or went straight to work- we highly encourage last year's graduates to join this event! Please RSVP to Mrs. McNeese at
emcneese@bluebullets.org
to confirm you can make it!