Just a reminder that today, Monday, May 23 and Tuesday, May 24 school will be dismissed at the normal 3:00 p.m. time. Wednesday, May 25 school will be dismissed one hour early, it will be a 2:00 p.m. dismissal. Enjoy the summer break!

KHS Volleyball camp registration forms are due tomorrow. Please turn in your students form and payment to the offices at each school. The registration form is attached. Thank you.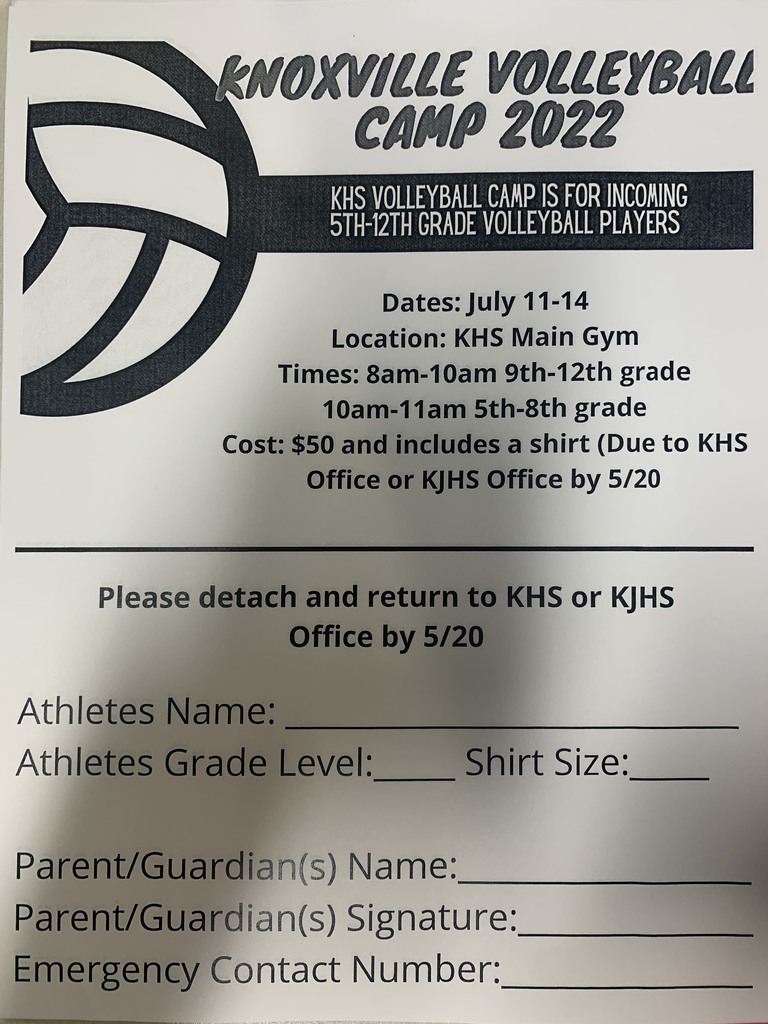 KHS Basketball camp for students going into 9th -12th grades will be May 31-June 3. Please use the attached form for registration.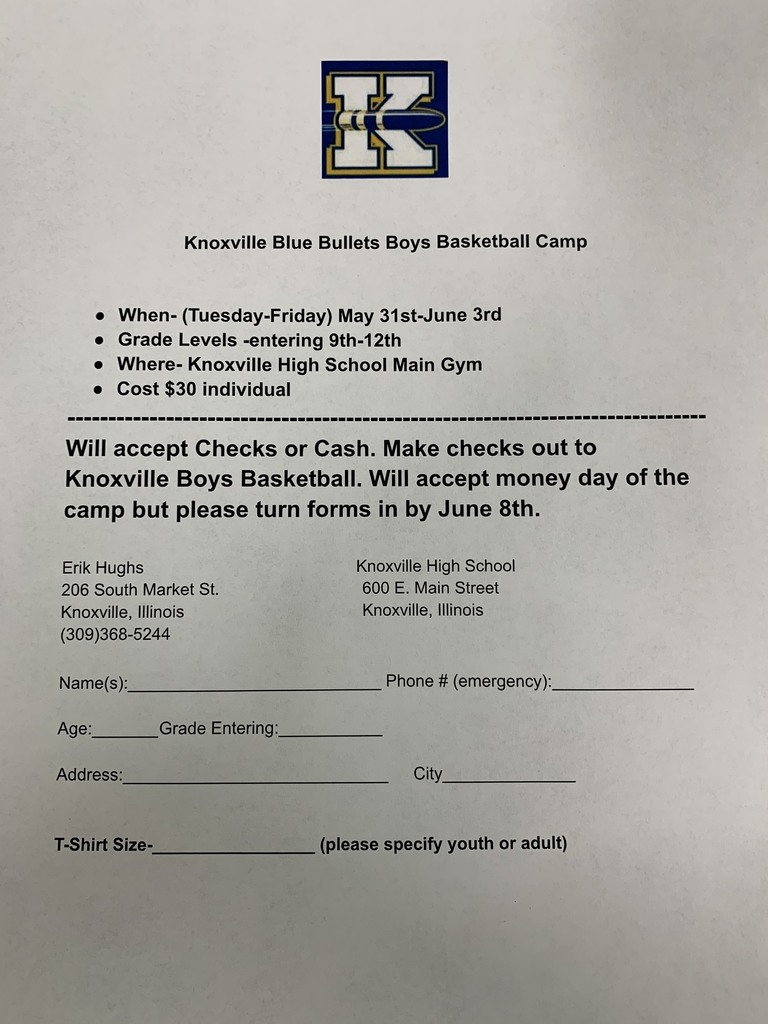 Enroll your student today for the KHS Boys Basketball Camp! Please click on the link for the registration form.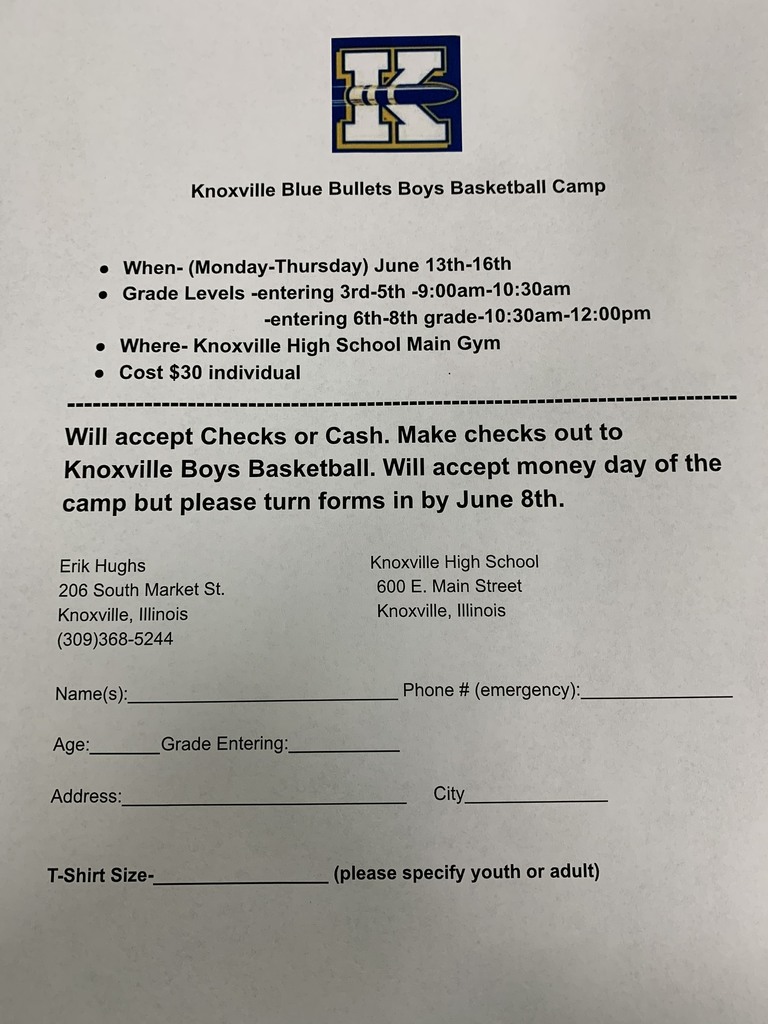 There will be a final meeting for the 2022 DC Trip tonight (5/17) at 7pm in the KJHS Commons Area.

As some of you may have already been made aware, we experienced an issue with one of our classroom doors at KJHS this morning. Thank you to our wonderful teachers and Knoxville Firefighters for getting the door open and our students safely out of the classroom. As always, the safety of our students and staff are our number one priority, and we are happy to have been able to resolve this issue.

KHS will administer final exams on Tuesday, May 24 and Wednesday, May 25.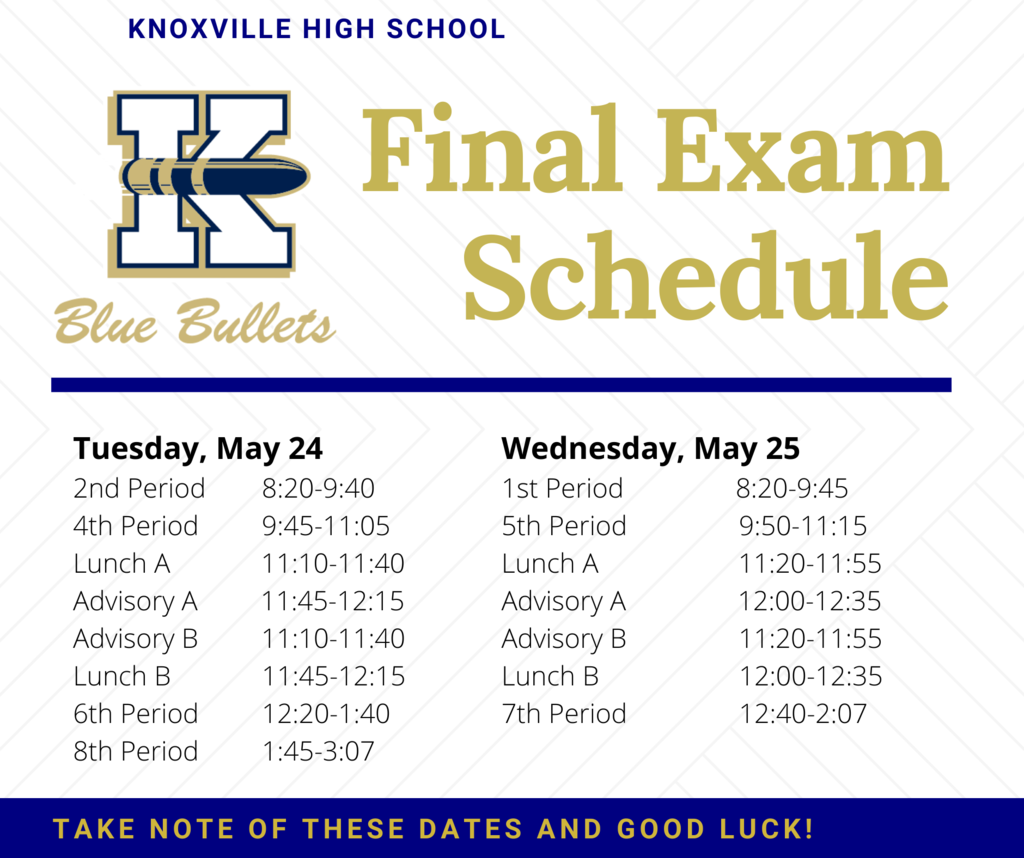 Today's softball game with Richwoods has been canceled. Next game is Wednesday, May 18 at 4:30 pm in Farmington.


Congratulations to Jensen Stoneking and Vincent Conlee. Last Thursday, May 5, Knoxville students attended the Western Illinois IPA student recognition breakfast. Students from across the region were recognized for their outstanding contributions to their schools. Thank You Jensen and Vincent for having such a positive impact on KHS.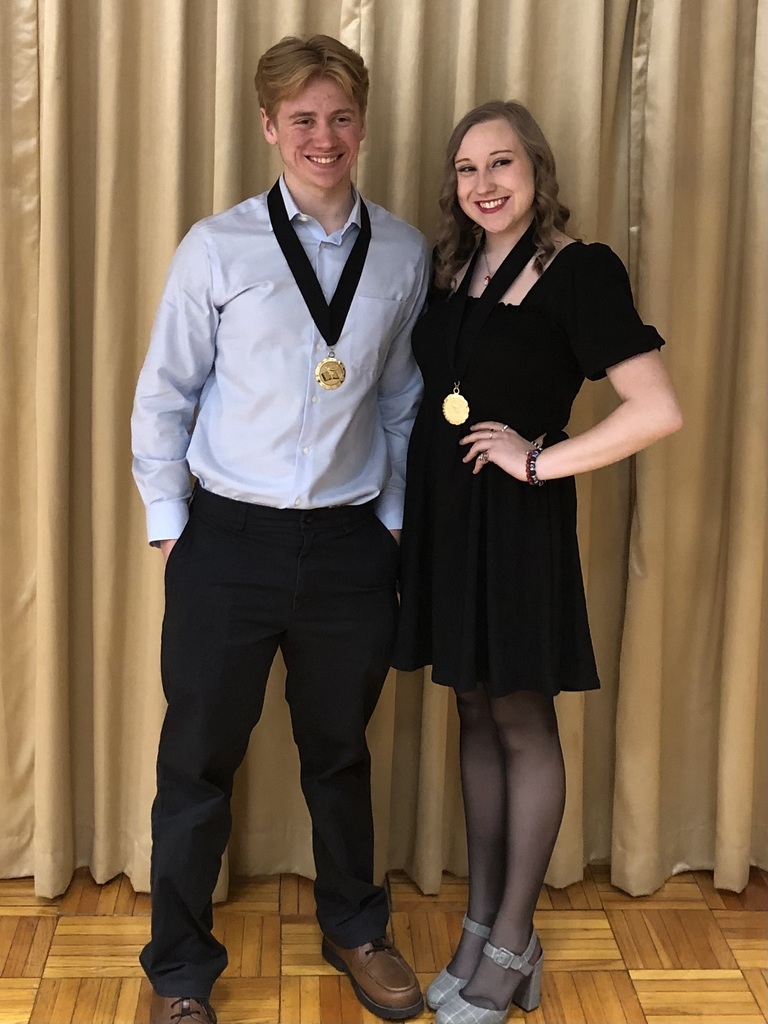 Knoxville High School graduation ceremony will take place this Sunday, May 15 at 3:00 PM. Doors will open at 2:15 PM. All are welcome to attend. Please come out to the HS and support our graduating Senior.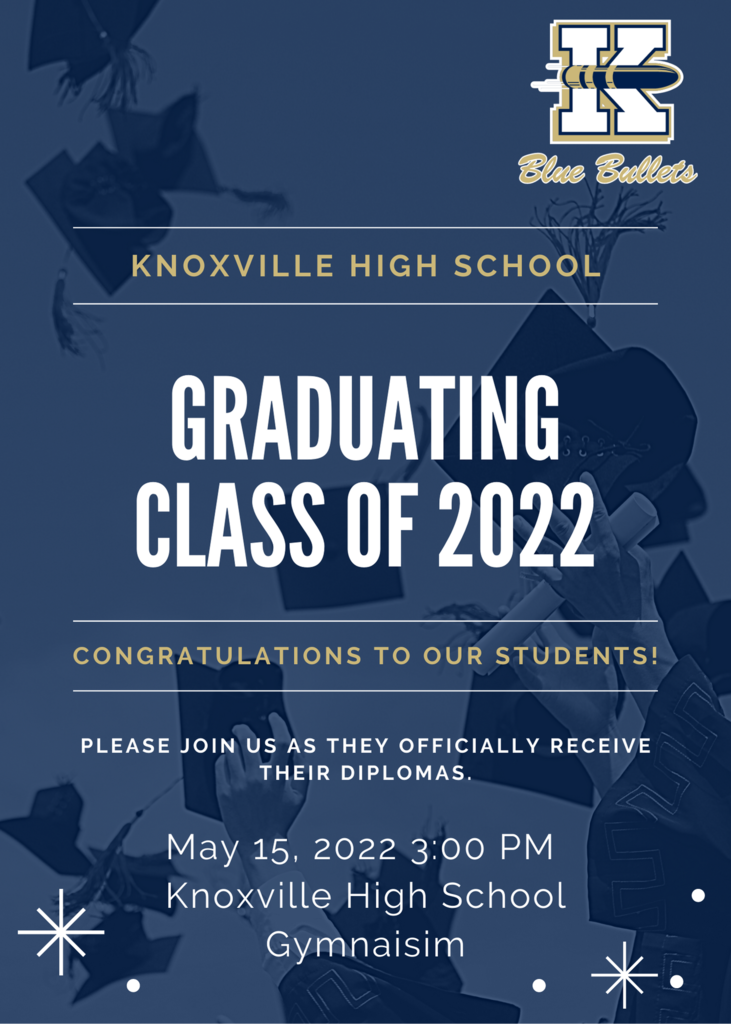 Today's KJHS Jr High track meet at Orion has been POSTPONED until tomorrow, Wednesday, May 4. Times and admission prices remain the same. NO practice after school today for boys or girls. We will NOT be going to Dunlap tomorrow for a track meet but instead will head to Orion for our Prairieland Conference meet.

The week of May 2nd through May 6th is Teacher Appreciation Week. Knoxville 202 appreciates our teachers each and every day. Thanks for all you do for our Blue Bullets. If given the opportunity, please thank a teacher this week.

Baccalaureate will take place this Sunday, May 1 in the HS auditorium at 7 pm. Any senior that wishes to participate need to be at the HS at 6:30 pm. If you have any questions, please contact the HS office.

Project Graduation will take place this Saturday, April 30 at the High School. Check-in is scheduled for 9:30 pm. This event will end at 5 am. If you have any questions, please contact the HS office.

The Board of Education Committee of the Whole meeting scheduled for tonight has been cancelled.

The MWES Carnival will take place this Saturday from 4-6 PM. Tickets for kids are $10. There will be bouncy houses in the gym and several games located in the classrooms. We hope to see you there!

KHS Baseball game for this afternoon has been postponed. The make up date for this game is May 3, 2022 at 4:30 p.m. The game will be at home. Thank you.

KHS Softball and Track events for this afternoon, Thursday, April 14, 2022 have been cancelled. Thank you.

Tonight's KHS Baseball game against Ridgewood has been cancelled. Make up date has not been determined.